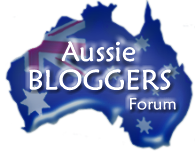 Although there was a very good community blogging resource at Bumpzee to promote and share Australian blogs, things have improved recently.
Over the past couple of weeks, a small group of dedicated Australian bloggers have taken on the challenge to setup a forum whose aims include "empowering, encouraging, supporting and promoting Aussie Bloggers and the Australian blogosphere in general".
The founders, Snoskred, Andrew Boyd and Meg Tsiamis have been busily setting up and sorting out Aussie Bloggers. They are supported by a group of moderators who also come with years of practical blogging and online experience. The "establishment team" are:
I am happy to be part of this group and look forward to watching this forum and community grow. So make sure you visit the blog, launching on January 21 ... and REGISTER for the forum. There is a wealth of great material already available and really friendly helpful Aussie bloggers to point you in the right direction and share some fun stuff with.
If you haven't joined, I recommend it. Very useful.